新西兰怀卡托大学驻城市学院教师( 部分)
---
| | |
| --- | --- |
| 2017-10-26 | |
Awais Muhammad Gulzar,巴基斯坦国籍,工商管理博士,毕业于华中科技大学,
主要研究方向为企业金融,家族企业管理及经济学,
2012年开始任职于浙江大学城市学院商学院,先后教授课程Econometrics,
Monetary and Macroeconomics, Corporate Finance,
Personal Financial Planning, Business Analysis and Valuation。
Hailing from Ireland. Anthony completed his BA and MA in English from the National University of Ireland, Maynooth. Following this, he went on to pursue the Cambridge Diploma in teaching English to speakers of other languages. (DELTA). Before moving to ZUCC he taught at Renmin University of China, Tsinghua University and The University of Edinburgh. He has been living in China for almost seven years and loves to learn about Chinese history and Culture. He is the programme coordinator of our English for professionals paper (ENSLA100).
David Conway graduated with a Masters in Scriptwriting from the University of Wales, Aberystwyth in 2008. From there he worked in the Film and TV industry in London before coming to China, but continues to explore film styles and genres in his own work. He is currently developing individual projects to shoot next year, and is preparing to work on his first 3D film in China.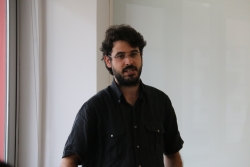 Andrea Zanibellato is from Italy and holds a Master Degree in Mathematics from the University of Padua (Italy), with a thesis developed with a research team at a national research institute in northern France (INRIA). Besides his background in computational models, he has extensive professional experience in the field of software development and web applications.
He teaches computer science courses for the BCGD and BMCT programs.

【打印本页】
【关闭窗口】